Tafari Wraps is a luxury design house and resource center celebrating and preserving Afro-Diasporic culture through functional wearable art, home décor and art education.
Founded as House of Tafari Collection in 2006 by Boston artist Faith (Imani) McFarlane, Tafari Wraps aims to erase the negative stigma of Black inferiority through bold functional art spanning head wraps, accessories, home décor and hands-on arts programming revitalizing the story telling of the Black Diaspora. 
Imani began House of Tafari Collection as a facilitator of head wrap workshops to heal herself and community after facing racist attacks by colleagues and clients while an on-the-road interior decorator for a Boston firm. Chastised for her striking wraps of silk dupioni and wax print as her professionalism and experience were frequently interrogated, Imani left corporate America to embark on a new iteration of her entrepreneurship. 
With $20, Imani purchased 6 yds of wax print and designed 7 head wraps carrying the label House of Tafari Collection. Taken to Boston's libraries, community health centers, YMCAs, hospitals and centers of higher learning, she charted a new career as a facilitator of The Art and Fashion of African Head Wrapping, today known as our Wrapshop. We wouldn't be surprised if your mama, church sister, or college bud from Wellesley, Pine Manor, NYU, or MassArt- to name a few, remembers their first time wrapping with spirit thanks to Imani.
Designed in our Fort Point Boston atelier, the kool-aid colors of wax print, calm of indigo, tritik tying techniques of batik, stories imprinted onto adire and the drape of silks all work to bring the vibrancy of Tafari Wraps alive. Designed and cut with intention, Tafari Wraps bridges the gap in cultural connectivity stitch by stitch, program by program.
Tafari Wraps has been endorsed by ​the American Cancer Society, Massachusetts Cancer Coalition, and the Lupus Foundation of New England. A 2022 recipient of Boston Magazine's Best of Boston® for Excellence and Quality, we invite you to journey through the luxuries of bold expression under a Tafari original.
faith (imani) mcfarlane
Faith (Imani) McFarlane is an internationally-acclaimed designer, artist, master seamstress and educator with over 40 years of experience in high-end fashion, interior decorating, and sustainable home goods. She is the founder of the House of Tafari Collection (HOTC). McFarlane spent her early career designing couture fashion for Miss Universe and Miss World beauty pageants, Boston and Jamaican elites. Her designs have been showcased on runways in London, New York, Boston, Lima, and Jamaica.
For nearly a decade after running the Tafari label, Imani worked as an interior design consultant and decorator, trained in some of Boston's most prestigious high-end showrooms.  
McFarlane holds a degree in Fashion Merchandising from Fisher College, where she served as a goodwill ambassador. A BRA artist, Imani lives and works in Boston Seaport.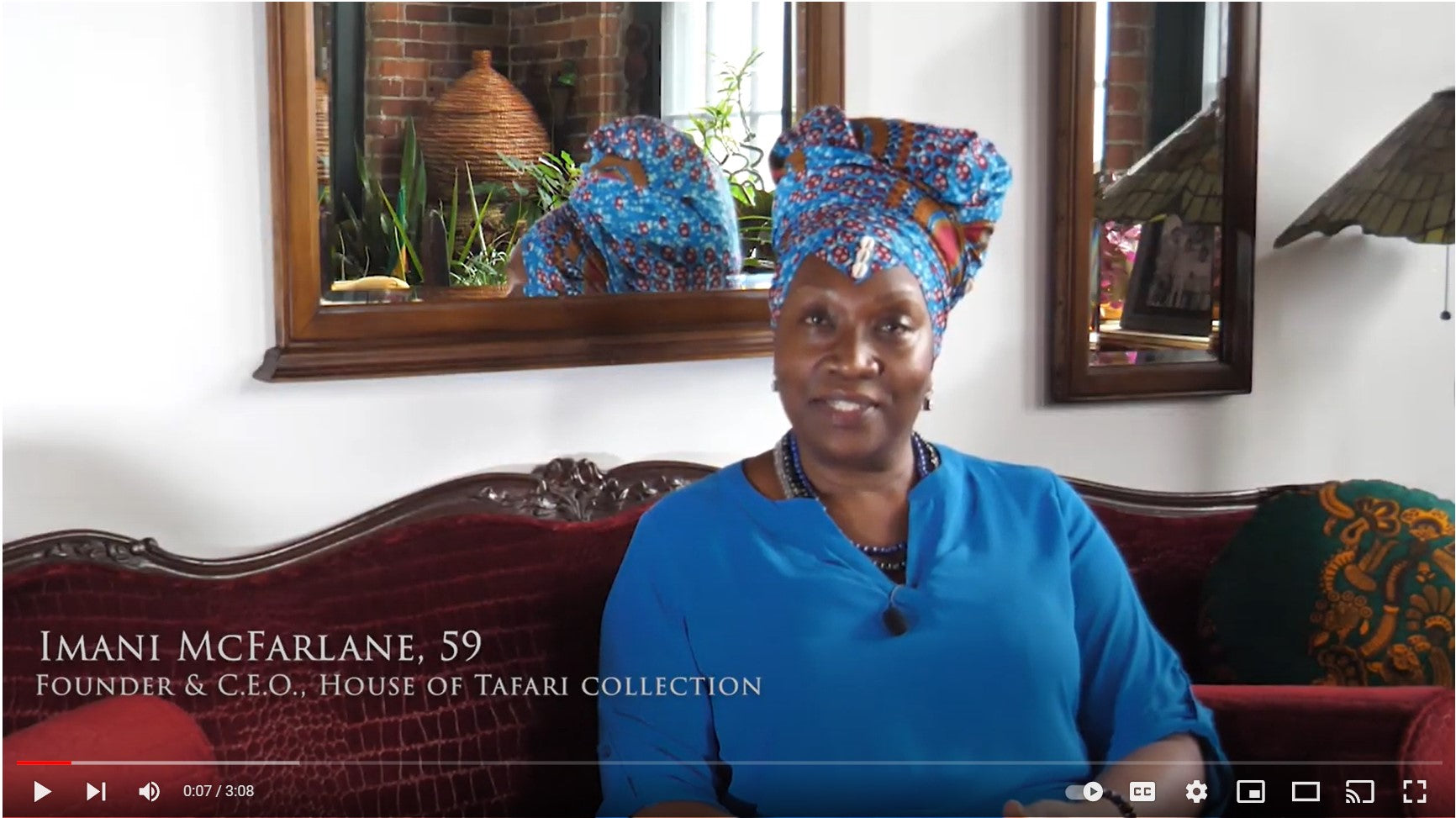 Delmeshia Haynes
Delmeshia Haynes is an educator, set designer, and Wrapologist.
She is currently the COO and Wrapologist at Tafari Wraps, a holistic lifestyle brand preserving AfroDiasporic culture through arts education, wearable goods and home décor. She directs the business's marketing and branding initiatives, accounting and delivery logistics, event coordination, and photoshoot and set styling, all while centering her work around outreach and education about the ancestral practice of head wrapping. 
An educator, she has years of experience in academic case management, supervising staff and working with at-risk youth in various neighborhoods from West Harlem to Chinatown, NYC. Delmeshia also holds a certificate of accreditation from NYU's SPS in restaurant management working seven years as a server at several luxury NYC restaurants, catering companies, and private events for the celebrity elite. 
She earned a BA in Africana Studies from New York University and is now based in Boston.