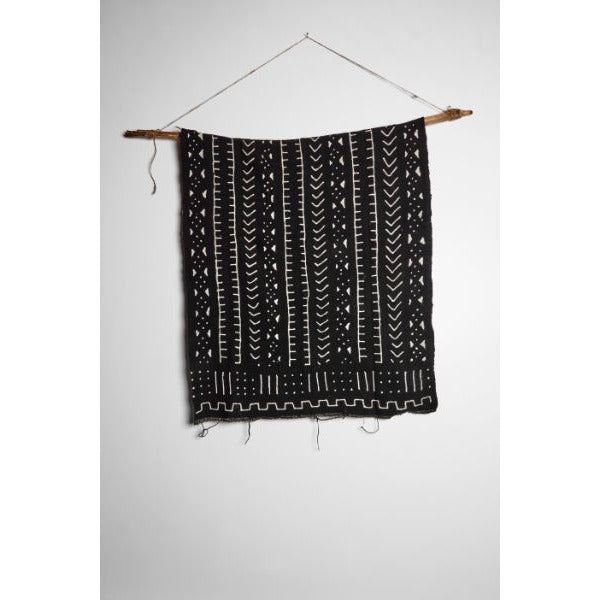 Black Geometric Bogolan Throw
An art form passed from mother to daughter, bogolanifi (mud with cloth, "mudcloth"), are loved by textile enthusiasts for their simplicity and creative use of natural materials. This one-of-one black frayed edge mudcloth throw with fine geometrical markings adds depth as a tapestry in your most loved spaces. 
Created in small batches in our Fort Point Boston atelier using hand sourced textiles.
Tafari Wraps encourages you "Think it. Feel it. Live it." Life without boundaries manifested through spirit. Indigenous textiles of indigo and bogolanfini find their way in Tafari's homewares, our way of celebrating the artistry and collaboration between Fulani and Malian women and men, respectively.
amazing pillow
"I love my turquoise pillow! The make of it is firm, comfortable. I don't just sink down in it, it stays its shape. Mom and daughter do amazing work and I have bought a couple of things from Tafari wraps and I have no complaints with the merchandise. My beautiful ladies will surprise you with many different items, that are not really seen in stores. Emani and her daughter Delmeshia are very talented, and unique young ladies! If you're looking for good quality, hard working ladies, don't hesitate to lookup tafariwraps.com." - Kimberly
Healing Let's Lime Cushion
"I want to Truly Exspress how Comforting and Creatively Beautiful this Lime Cushion that I purchased is to me. I Have a bulging disc on the right side of my lower back and I've been Looking for the most comfortable cushion I can find to help ease the pain when I'm sitting and I was finally able to come across this Special cushion from Tafari wraps. I'm Grateful that this Mother and Daughter team takes their time and puts so much Love, Care and Thoughtfulness when making their products. Every time I sit down on my cushion it's another day of Healing because it feels so good. I Just wanted to share my story and say Thank You Ladies of Tafari wraps for your Caring consideration for Customers like me. Peace and Love!" - Tameka
MONARCH PLACEMATS
"Great customer service great personality! I love my monarch placemats. They are good quality and just look so beautiful on my table Thank you so much for your hard work Tafari Wraps crew for bringing these absolutely beautiful designs to life and giving new meaning to my home. I was searching for something different and unique and definitely found it here at Tafari Wraps. Thank you so very much!! Peace and Love to you, may you have additional success." - Jason
Your product's name
$19.99
Your product's name
$19.99
Your product's name
$19.99
Your product's name
$19.99
Your product's name
$19.99
Your product's name
$19.99